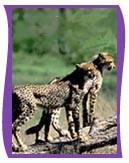 The cheetah (Acinonyx jubatus), which inhabits the Middle East and most areas of Africa except rainforests, has a brownish-orange coat with small, round black spots. Conspicuous "tear strips" run from beneath its eyes, across the cheeks to the corners of the mouth. In contrast to other cats, the cheetah has a loose and rangy build, small head, high-set eyes and small ears.
Except when raising cubs, adult females are solitary and rarely associate with other adults. They are not aggressive toward other cheetahs, but if they see another nearby, they usually walk away or hide. Males, on the other hand, often live in permanent groups. In fact, males often hunt and eat together, but they do not help to raise the cubs.
Diet and Hunting: The cheetah, the fastest land animal on earth, can sprint at speeds of about 60 to 70 miles per hour. It can achieve such speeds partly because its flexible back and limb joints give it a long and rapid stride. It has limited endurance (about a quarter of a mile), however, and the sprint quickly leads to near exhaustion. Consequently, the cheetah can only hunt effectively in open country where there is enough natural cover for stalking. Cheetahs begin by stalking prey for a few seconds or up to several hours. When the prey is within 100 feet, the chase begins. About half of all chases end with the prey being suffocated by a throat bite.

Adult cheetahs eat an average of six pounds of meat per day, but they drink infrequently--once in every four to ten days. Its speed allows the cheetah to prey upon animals much larger than itself, but generally cheetahs prey on medium-sized animals such as gazelles and impala.
Status: Estimates of the remaining population of cheetahs range from about 20,000 to 25,000, perhaps only half as many cheetahs as in 1960. Although cheetahs are widely protected, poaching and trade in skins continues. Loss of habitat due to human population growth in Africa also threatens the cheetah by making it increasingly difficult for the animal to hunt successfully.